As the most famous masked crime fighter of all time, Batman has partnered with Portal Games to produce a new version of their popular board game Detective. The partnership will include an exclusive Detective: Nemesis character for Batman fans, as well as "The Dark Knight Returns" set in Gotham City and features more than 80 cards.
The "detective board game" is a partnership between Warner Bros. Interactive Entertainment and Valve Corporation coming to the market in 2019. The game will be based on the Batman universe and will include Portal characters.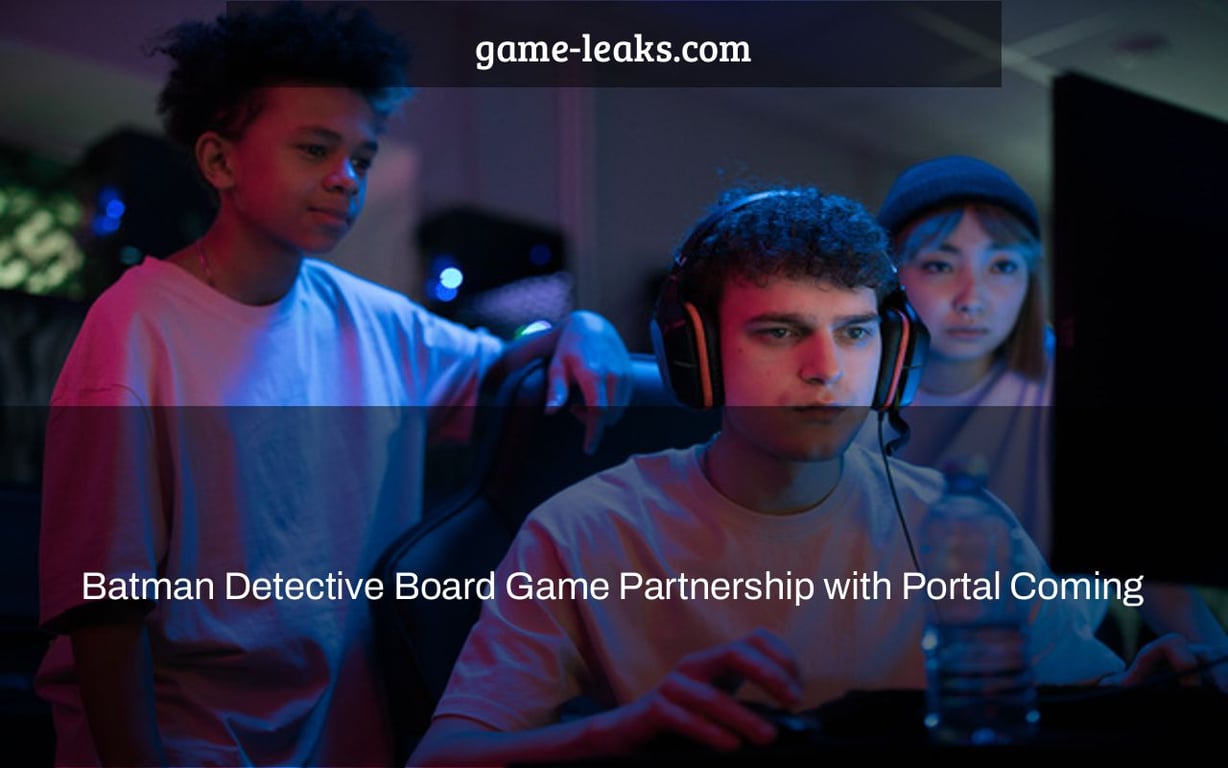 January 22, 2022 – It was disclosed in a large announcement that a Batman Detective Board Game Partnership with Portal is in the works. In collaboration with Warner Bros. WBCP, DC, and Genuine Entertainment, a high-end strategic board game publisher, have reached a deal to create fully licensed tabletop games using Batman characters situated inside the DC Universe.
All Batman games will include new and inspired iterations of Portal Games' award-winning Detective game system, delivering deeply thematic games that challenge 2-4 players to team up with the Caped Crusader and bring the aforementioned theatrics and themes to life in a fully immersive tabletop experience.
"While many games push you to fight like Batman, our games will challenge you to think like Batman," says Ignacy Trzewiczek, the game series' CEO and principal writer/designer. "Every fan has fantasized about stalking the streets of Gotham City and solving crimes with the world's best detective, so collaborating with WBCP and DC on our own line of Detective cases set in this famous universe has been a dream come true for everyone involved."
Batman: Everybody Lies, the first game, will include an original story in a crime-solving deduction game where players must collect evidence and connect the dots to solve the case. In Batman: Everybody Lies, players assume the roles of four key investigators – instinctive journalist Warren Spacey, tenacious reporter Vicki Vale, brutish detective Harvey Bullock, or the cunning Catwoman – who are drawn into a series of mysterious events unfolding in Gotham City for their own agendas, eventually becoming unlikely allies entrusted to help thwart villains new and old as only the World's Greatest Thriller can.
Players must solve a succession of difficult cases with a limited amount of time and resources throughout the game. Players work together to pursue leads, identify suspects, and gather enough information to help save Gotham City by visiting famous locations in Gotham City (such as the Batcave, Arkham Asylum, Blackgate Penitentiary, and the Gotham City Gazette) and crossing paths with well-known Batman characters (such as Batman, The Penguin, Poison Ivy, Mr. Freeze, Scarecrow, and more). Even when these odd friends get together, their objectives aren't always the same. As a result, Portal has incorporated a new hidden agenda feature to the Detective system, which gives secret objectives and unique victory conditions to each player dependent on the DC character they impersonate.
For a truly immersive experience, players will use a variety of physical and digital game components – a deck of cards with essential clues and plot twists, various physical handouts, and a dedicated website with access to in-world resources from the Gotham City Gazette archives – to solve the puzzle and steer the game narrative in fun, surprising directions. Scenes, a new thematic addition to the game, bring famous gaming moments to life via fresh comic book images that seem ripped from from the pages and panels of renowned comics.
Beginning with an introductory Prologue to familiarize players with the game's principles, Batman: Everybody Lies moves on to three major cases to solve, each of which takes around 2-3 hours to complete. Each case may be played as a stand-alone episode, but if players solve all four cases, a master story with an epic ending will emerge. Every scenario concludes with a final report that includes questions that assess how thoroughly the team examined the case. For Portal Games' award-winning Detective game series, this game model became a financial and critical success, producing a growing library of original and licensed games that have sold hundreds of thousands of copies worldwide in over a dozen languages since 2018.
Future games may go further into the DC Universe, as well as draw influence from DC cinema and television shows. Genuine Entertainment CEO Joe LeFavi, who arranged the Portal/DC partnership and acts as a producer and brand manager for Portal's tabletop game series, adds, "Batman is definitely one of the best crime-solving sandboxes ever created." "As long as the Dark Knight is needed in Gotham City, we can only hope to provide him and our players with additional crimes to solve in the years ahead."
Batman: Everybody Lies will be released in Spring 2022, after an epic pre-order campaign that began on March 4 and will be available in stores this Summer.
Sign up for the Portal Games newsletter at www.portalgameus.com to get the latest news and previews for Batman: Everybody Lies. Interested retailers, distributors, and translation partners for Portal's expanding line of licensed Batman tabletop games are encouraged to contact [email protected] with their Bat-Signals.
https://portalgames.pl/en/dc-and-warner-bros-consumer-products-join-forces-with-portal-games-for-an-official-line-of-detective-board-games-featuring-batman/
---
Are you looking forward to the Batman Detective board game collaboration with Portal? Please let us know in the comments section below!
Related Tags
fun board games for two
wavelength board game
my city board game