In this blog post I will discuss a few ways to level up your Steam account, quickly. There are several ways that you can level up your games and get more experience playing them at the same time!
The "how to level up steam account free" is a guide that shows you how to level your Steam account fast. This guide includes the best ways to get more levels and what games you should play.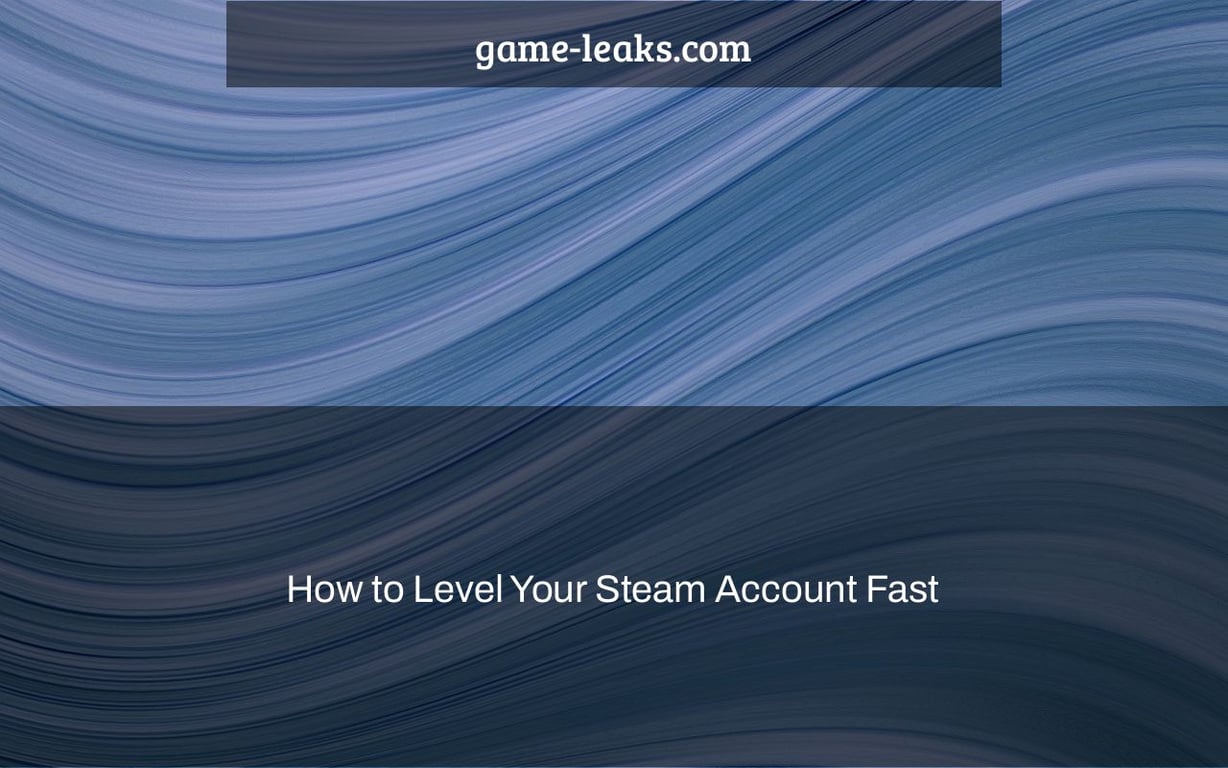 The benefits of leveling up your Steam account include a larger buddy list, more showcases for your profile, and a more respected account. Because the list is organized by levels, you also appear higher on other people's friends lists on their profiles. Whatever your reason for wanting to level up your Steam account, we have a step-by-step tutorial that will show you how to achieve it swiftly. 
While leveling your Steam account isn't required, there are a few reasons why you may want to. This is a good choice for some more features if you want to access the maximum customisation possibilities for your profile.
How to Quickly Level Up Your Steam Account
Crafting Badges is the easiest method to level up your Steam account. Many Steam games have Badges attached to them, which are made up of a certain amount of Steam Trading Cards. Users may acquire Trading Cards on Steam in a variety of methods, including buying a participating game, playing the game, or acquiring and trading for Cards directly from other Steam users. More details on how to get Steam Trading Cards may be found on Steam's website.
There is an effective method to level your account since certain games only take five cards to construct a badge, while others may demand ten or more. You may utilize the Steam Tools website, which is a third-party service. The website takes into account card costs and the quantity of cards required for each game to provide the most cost-effective card sets for making a badge. As a consequence, the cheapest and fastest option to level your Steam account is now available.
The procedure for quickly leveling your Steam account is as follows:
To get started, go to the Steam.tools website.
Sort in ascending order by Set Price.
Find the cheapest Card Set and proceed to the badge page for that game.
Purchase all of the available Cards.
Badges for Crafting
Rinse and repeat as needed
Because you buy Cards from other players, this way of leveling your account will cost real money. The majority of Badges have a maximum level of five. That implies you'll need five of each card to complete the badge, for a total of 25 cards. The cheapest Card sets are now available for Note that this method of leveling your account will cost real money since you purchase Cards from other players. Most Badges cap out at level five. That means maxing out that badge requires five of each card or 25 cards in total. At the time of writing, the cheapest Card sets are going for $0.25. That translates to $1.25 in total to get to level five and acquire 500 XP..25. To reach level five and get 500 XP, you'll need to spend $1.25 total.
You can also trade your friends for the missing Cards you need to Badges for Crafting. However, this will take more time and be a bit less efficient. Ultimately, since you will need to own a specific game to get that game's Steam Trading Card drops, it is often cheaper to simply buy each card rather than purchase the game if your goal is to level your account.
Rep this procedure for the lowest Card Sets, and keep an eye on the Steam Tools page for pricing changes on a daily basis. You'll be able to swiftly level up your Steam account without spending too much money over time.
Frequently Asked Questions about Steam Account Leveling
What is the highest level Steam account?
St4ck is the highest level Steam account. The user has earned almost 6500 Badges and has a Steam level of 5000.
How do you go about purchasing Steam Trading Cards?
The Steam Market is where you can buy Steam Trading Cards. Log in to the Steam client or the Steam website to see your Steam Trading Cards. You can see your whole list of owned and necessary Trading Cards for Badges in the Badges area.
What are the benefits of leveling up your Steam account?
You may add more friends to your Steam account, unlock different profile showcases, and increase your chances of obtaining booster packs by leveling up your account.
Check out our article on how to acquire an avatar frame on Steam for further Steam profile help.
Watch This Video-
The "steam levels" is a tool that allows users to level up their Steam account. The process of leveling an account is simple, and the tool also provides stats about how much time it would take for someone to reach the next level.
Frequently Asked Questions
How do I level up my Steam profile fast?
A: I know youre eager to level up your Steam profile and make it all spiffy. The quickest way, in my opinion, is to add a lot of games that you enjoy playing. This will help increase the amount of hours played on your account as well as the number overall hours spent playing video games on Steam, which can give you some quick levels!
What is the fastest way to level up in steam 2021?
A: In this case, the best way to level up in steam is by playing games such as CSGO and Dota 2. If you think that these are too slow for your taste, then it would be a good idea to try out Fortnite on Steam.
What is the fastest way to get to level 10 on Steam?
A: There are several ways to get to level 10 on Steam. The fastest way is via trading cards, which you can find in the menu screen of your game.
Related Tags
steam level up bot
how to level up steam account reddit
how to level up my steam account for free
how to upgrade your steam account
how to craft badges on steam