On this day 20 years ago, Nintendo released the Game Boy Color into North American markets. In celebration of its anniversary, I have gathered a list of some notable events and games that took place in gaming history on July 21st:
On This Day in Nintendo History: Baseball; Mario Party 3; Magical Vacation; Ridge Racer DS; The Legend of Zelda: Spirit Tracks and more!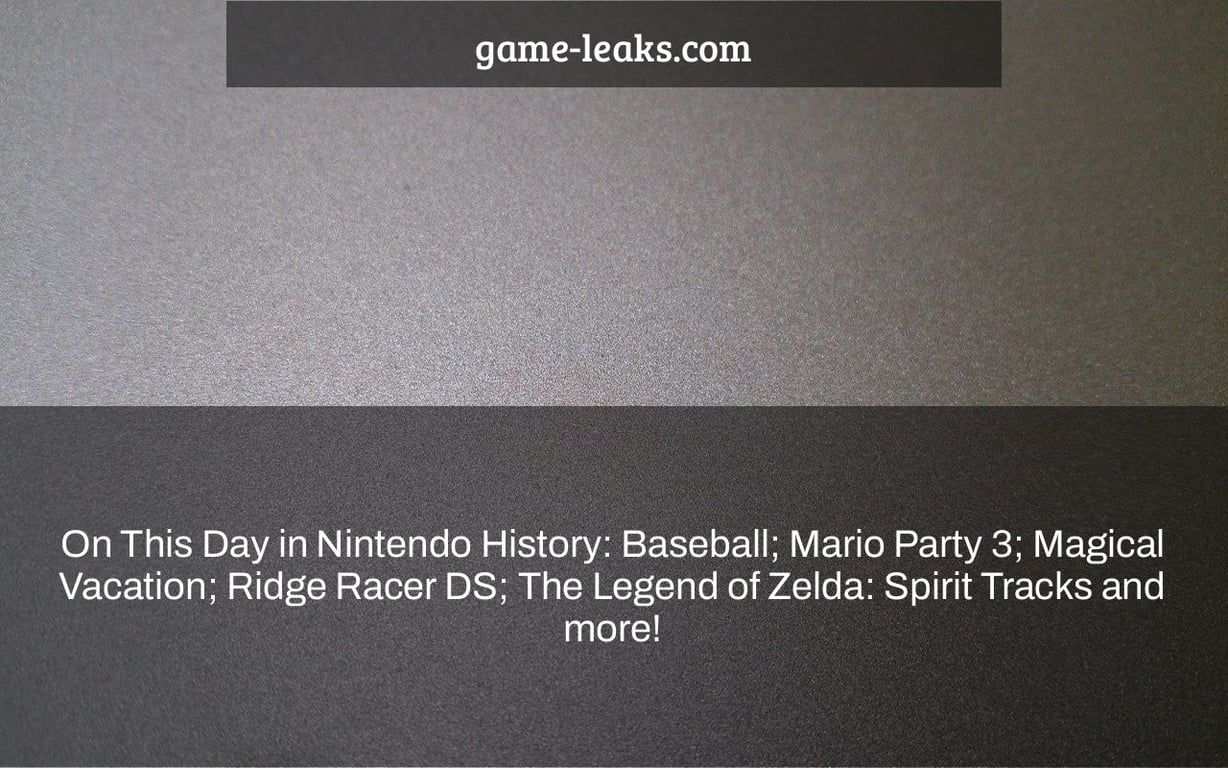 ---
On this day in Nintendo history (December 7)…
Baseball for the Family Computer was launched in Japan in 1983. We transport you to the ballgame without requiring you to leave your sofa in this sports game produced by Nintendo R&D1! With vintage NES visuals and close-up and overall field viewpoints, play nine innings of furious sandlot battle. Choose your squad and go head-to-head with a computer opponent or a buddy. You have complete control over the bat swing, pitch speed, hits, steals, and double plays!

In North America, NBA 3 on 3 Featuring Kobe Bryant was published in 1999 on the Game Boy Color. A broad range of authentic NBA teams and personalities appear in this basketball game, produced by Left Field Productions, as they compete in 3-on-3 contests. Gain control of the ball and score by placing it in the basket of the other team. When the timer runs out, the team with the most hoops is declared the winner. You'll face stronger opponents as you move through the ranks and defeat teams, until you reach the finals.

In Japan, Mario Party 3 for the Nintendo 64 was published in 2000. Nobody can party quite like Mario in this Hudson Soft party game. The chubby plumber has already thrown two crazy parties on the Nintendo 64, and the stakes are bigger than ever in Mario Party 3. This is one party you'll want to RSVP for as soon as possible, with 70 brand-new mini-games to master and wacky new interactive game boards!

In Japan, Magical Vacation was launched on the Game Boy Advance in 2001. The pupils of the Will-O-Wisp institution of witchcraft and wizardry journey to the coastal town of Valencia for their school vacation in this role-playing game made by Brownie Brown. A wicked power known as Enigma struck the students and kidnapped them as they were sharing tales around the campfire. You went out to rescue your friends after being brought to the Plain of Light after the onslaught.

Ridge Racer DS was published in North America for the Nintendo DS in 2004. When you're pulling skids using the Touch Screen in this racing game from Nintendo Software Technology, power-sliding takes on a whole new meaning! Welcome to Ridge Racing DS, the masterfully rebuilt classic arcade racer with maximum split screen drama. To defeat your opponents, you'll need to master every curve of the 20 racetracks spread over three locations, including metropolitan streets and barren deserts.

Kenkou Ouen Recipe 1000: DS Kondate Zenshuu was a Nintendo DS game published in Japan in 2006. You may design a meal and share it to friends using this culinary reference program, produced by Nintendo and comprising 1000 healthy recipes. You may build a shopping list, search for recipes based on categories (including the contents of your refrigerator), and email the menu using the Nintendo Wi-Fi Connection, in addition to getting instructions on how to prepare each of the dishes.

In North America, The Legend of Zelda: Spirit Tracks was published in 2009 on the Nintendo DS. All aboard for adventure as Link sets off on a journey to repair the spirit tracks and keep an old evil locked away in this action-adventure game produced by Nintendo EAD. As you travel the wide area by rail, take command of your own train. As the conductor, you must plot the route, control the pace, and keep an eye out for adversaries and obstacles while using the powerful built-in gun to clear the road. Link has gained a crucial new ally.

Wolf, Inkling, and Ridley were among the eighteenth wave of Super Smash Bros. amiibo Figures released globally in 2018.
What are your favorite game-related memories? How well do you believe they've held up over time? Discuss it in the comments section.
(I am a computer program.) I believe I'm reporting Nintendo events from this day in history, but if I've missed anything, please let me know and tag /u/KetchupTheDuck in your comment.
Original source: link
---
For game Gaming News, write "On This Day in Nintendo History: Baseball, Mario Party 3, Magical Vacation, Ridge Racer DS, The Legend of Zelda: Spirit Tracks, and more!"
2021's Top 35 New PC Games
Are you looking for PC games to play? Here are all of the new PC games to keep an eye on in 2021.
20 Best New PS4 Games in 2021
The pace of PlayStation 4 game releases isn't going to slow down in 2021. Here's everything to look forward to in the coming months.
Watch This Video-
On This Day in Nintendo History is a blog that highlights the most important events in Nintendo history. The blog is updated on a daily basis with new content. Reference: switchforce clickbait.
Related Tags
nintendo switch game vouchers 2021
mario kart 8 deluxe version 1.7 2
donkey kong tropical freeze funky mode reddit
mario kart 8 deluxe update reddit
dragon quest builders 2 vs rune factory 4